About CSWU –
Calgary SW United Soccer Club
Calgary SW United Soccer Club is dedicated to our member's success, & volunteers. Our reputation is a fun, accessible soccer center for all ages and skill level.
As one of the longest-standing soccer clubs in our ever-growing beautiful city, we are proud to continue to offer a program for every skill and competition level available.
With a brand new state-of-the-art training facility, new bridges have been built. Starting from the ground up with our Grassroots program for ages 3 – 12-year-olds, it continues through the next stages of development with a competitive program that is offered to ages 8 – 18 years old. 
Calgary SWU has been serving Calgary communities since 2003. Our Technical curriculum creates a relevant, coherent, and engaging environment for all players, parents, and coaches.
The Academy provides quantifiable standards for measuring coach and player performance and promotes the four pillars of player growth: technical, tactical, physical, and psychological.
Calgary South West United (SWU) is a Calgary-based youth soccer club. Soccer is our passion; it's not only what we do but also who we ARE. Our goal is to make this great game of soccer accessible to all families who want their child or children to develop their skills and abilities. We create a fun, safe, inclusive environment for all our players.
The true success of our club is its people. It is due to the dedication and passion of our staff, Board of Directors, volunteers, and parent members that SWU has a reputation for being fun and accessible for children of all ages and skill levels.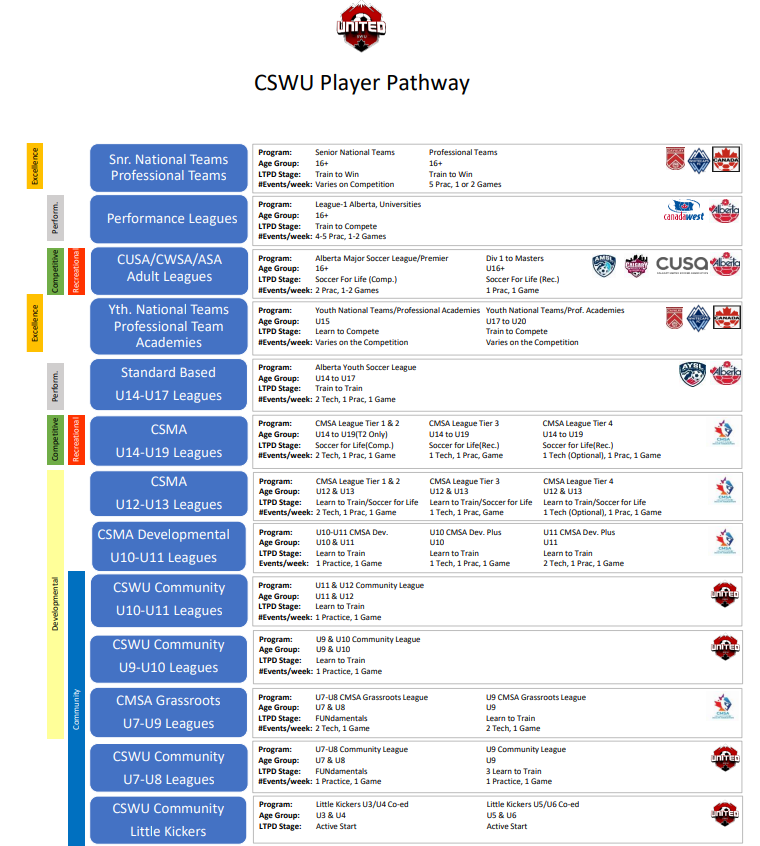 The CSWU Difference
EXPERIENCE:  SWU has served Calgary for over 20 years and has the second longest running technical academy in Alberta with SWU Academy.
CHAMPIONSHIPS: SWU have won over 75 provincial titles over the last decade, plus 18 National Medals.
PROFESSIONALS: SWU has produced several top players who have started for Canadian youth national teams, most recently Caniggia Elva (Wurzburg Kickers\ Bundesliga 3rd Division) Caolan Lavery (Bury F.C./ England league one)
UNIVERSITY/COLLEGE NATIONAL TEAMS: SWU produces more college players than any other club in Calgary
STAFF: SWU develops players and promote players from within the club for their Academy teams.
DEVELOPMENT CURRICULUM: SWU uses a specific developmental curriculum in line with the
best practices of Canada Soccer from age 6 to age 18
CSWU MISSION, VISION & CORE VALUES
MISSION
To ensure that all boys and girls of all ages and abilities have equal access to the game of soccer. To help and inspire them to technically develop to the best of their abilities through a focus in individual success and personal growth rather than winning at all cost.
VISION
SWU's objectives, a guide to our internal decision-making. The future we want to create.
CORE VALUES
We don't just accept difference—we celebrate it, we support it, and we thrive on it for the community and our club members. Our core value goal is bringing the community and families to the great game of soccer, "to develop soccer players for life."
We create a fun and safe environment for players from the ages of 3 to 18 years old to learn the game, acquire all the skills needed to play, perform and develop into successful players of all levels.  If SWU were a person they would be Compassionate, Approachable, Competent & Charismatic.
CSWU FACILITY INFORMATION
REGISTRATIONS
To ensure that your child(ren) have a team and get placed we recommend that you sign them up before each season starts. To sign up for any of our programs, or to volunteer please go to our registration portal online here, https://cswusoccer.powerupsports.com.
Once you have sign up and registered our team, and the coaches will evaluate, place and contact the members via email or phone call. It is important that you keep your contact information up to date in the system.
CLUB PARTNERS
CSWU Soccer club is proud to have inhouse partners ready, and assisting our young professional members. We have Strive fitness in the club, who works and trains our members with weekly fitness training, at no additional costs to the family.
Strive Fitness:
Strive Fitness provides overall fitness training for SWU's players and teams. No matter what your fitness goal, the team at Strive Fitness has a program for each SWU player. Since Strive Fitness operates within the SWU facility their team can provide all the tools necessary for speed and strength training. It's just another avenue that SWU provides for each player to reach his or her full potential. Contact 587.333.6448 for your family and friends, CSWU Member rates.
Pro Active Health Group:
Proactive Health supplies chiropractors, physiotherapists, massage therapists and sports medicine care. The goal is to work with all the athletes to prevent injury or diagnose and rehabilitate injury. For those players that are trying to take it to a more competitive level, we focus on biomechanics and optimize motion to enhance performance. For kids, activity is crucially for physical and mental development. Our passion is to getting kids moving and participating in the sport they love. Book an appointment online from our website: https://cswusoccer.com/proactive-health-group/
Tim Hortons: Proud supporter of Kids Sports, Tim Hortons is our team jersey and equipment sponsor, along with other sponsorships.